My 3D Printing Setup
Updated January 2022
I first got into 3D printing a few years ago when I bought my MonoPrice Select Mini, but only recently have I gotten more serious about it and have begun to upgrade my printer.
Here you'll find some details about my setup for 3D printing.
MonoPrice Select Mini (V2)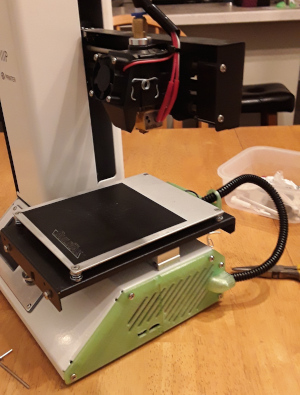 The Mini is my first and so far only printer, and apart from its small bed, I have absolutely no complaints about it. Here are the upgrades I've done/am planning:
Upgrades
Heated bed cable reroute (no drill method) using these instructions and these parts:

About 8" of 1/4" corrugated plastic tubing
Planned upgrades
OctoPrint
My printer is connected via USB to the Raspberry Pi 4 (2GB) that used to run this website when it first went online in April 2020. It now runs OctoPrint, which allows me to start jobs remotely, as well as monitor things like temperature and even see the printer through a webcam.